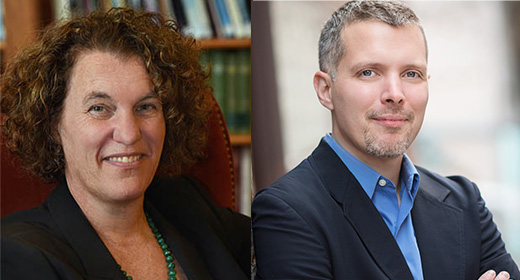 Professors Susan Dynarski and H. Luke Shaefer were awarded the fellowship to pursue high-caliber scholarly research that addresses critical societal issues. more »
The Center for Local, State, and Urban Policy worked with partners across the state to release a new series of memos and guides provide up-to-date information, ideas, and tools. more »
New research highlights the need for more robust eviction protections and other housing interventions in Detroit. more »
DMACS found that 1 in 5 Detroiters will run out of money due to the COVID-19 crisis within the next three months. more »

How long will the COVID-19 recession last? When will unemployment bottom out and when will jobs come back? What is the right balance between safety, health, and economic activity? How many stimulus packages will it take to avoid a total meltdown? These are the policy issues dominating the national conversation. Join Dean Michael S. Barr and economists Betsey Stevenson and Justin Wolfers as they discuss these issues and more. Register to attend this live event here.

Towsley Foundation Policymaker in Residence Adrienne Harris speaks on COVID-19, a Recession, and the Fintech Ecosystem with host Greg Palmer.
HEADLINES
"For most children, the school year effectively ended in March. If the country doesn't recognize this fact and respond accordingly — with large federally funded programs to reverse the losses — we will do great harm to a generation of children who will learn less than those who went before them." Susan Dynarski on potential policy actions that will mitigate inequalities due to online learning.
"The next round of small business relief funding can't simply replenish dollars: It needs to fix the program, too." Dean Michael S. Barr on how the Paycheck Protection Program failed to help the most vulnerable small business owners and disproportionately left out small businesses in predominantly African American cities.
"The COVID-19 crisis has shown that the United States has some intelligence capabilities regarding the infectious disease issue," he says. "But [it] likely needs additional ones to inform policymakers of threats in real-time, help minimize the potential for future outbreaks, and assist with long-term preparedness, response, and mitigation measures." Javed Ali on expanded intelligence community infectious disease response capacity.
"There will be lots of different kinds of data that will give us different pictures of the post-COVID economy, but one of them will be how prices adjust." Kathryn Dominguez on measuring economic impact in the post-COVID economy.
"My concern is when Donald Trump calls up Larry Ellison and says, 'Hey, what do you think? What should I do?' Because Larry Ellison is, again, not an infectious disease expert. Larry Ellison is not accountable to a public that voted for him." Megan Tompkins-Stange on the role of philanthropy and its influence during the COVID-19 crisis.