Greetings from the Dean

Dean Susan M. Collins on five-year strategic plan for diversity, equity, and inclusion; Youth Policy Lab; Poverty Solutions.

more »
Alumni News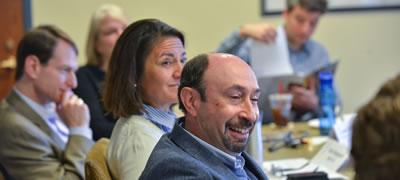 Self-nominations are now being accepted. Nominees will vie for six open seats. Deadline: November 1 at midnight EST.
more »
Alum and 2015 Towsley Policymaker in Residence started her new post in September.

more »
Sixth annual Spirit Day in pictures ...
more »
Alums shape Ann Arbor's Clean Energy Revolving Loan Fund ...
more »
Faculty News
New initiative, a partnership with the Survey Research Center, will support growing demand for rigorous evidence about policy interventions.
more »
Action-oriented agenda planned for interdisciplinary, University-wide anti-poverty work.

more »
Wolfers makes the case for prediction markets ...
more »
Collins to serve as judge for MacArthur Foundations' 100&Change...
more »
School News
Ford School initiative builds on strengths, is part of broad University commitment.
more »
Certificate program announces new director, welcomes applications.

more »
Gerber, Courant, and others are part of group appointed by U-M Provost Pollack to advise on the search for a new dean.
more »
'Redline with Bankole Thompson' airs live from Ford School ...
more »
Student News
Detroit, San Salvador, New York, Ottawa, Santiago, Jarkata … Our MPP students check in from summer internships.
more »
First-ever special issue tackles the theme of constitutional rights and freedoms.

more »
Newest cohort of Bohnett Fellows welcomed ...
more »