Greetings from the Dean

Dean Susan M. Collins on student-created film called

Walking the Line of Blackness

, awards for Ciorciari and Yang, and the 5th annual Worldwide Ford School Spirit Day.

more »
Faculty News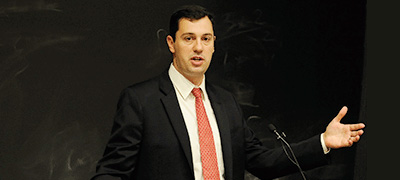 Newly-launched fellowship program will enable Ciorciari to examine shared-sovereignty agreements.
more »
Collins led prestigious Association of Professional Schools of International Affairs during a period of key transitions.

more »
Longtime Ford School writing instructor publishes her debut novel,
The Silver Swan
.
more »
Dean Yang promoted to full professor of public policy and economics ...
more »
"We're frighteningly in the dark about student debt" writes Dynarski in The New York Times ...
more »
Robert Stern passes away ...
more »
Alumni News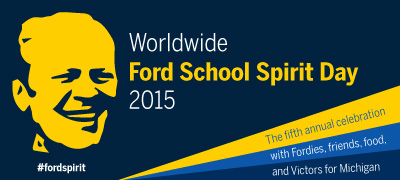 Save the date—alumni-led gatherings are coming to a city near you.
more »
Alum helps shape Direct Relief International's interventions.

more »
Erin Zaikis (BA '11) launches social enterprise Sundara.
more »
2015 Commencement ceremony honors 184 new alumni ...
more »
School News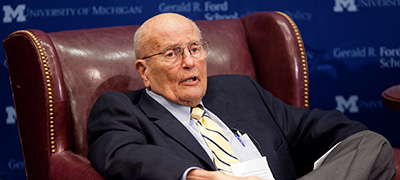 Longest-serving member of Congress will facilitate leadership conversations for aspiring public servants.
more »
Ford School and University of Toronto students host case competition around building resilient cities.

more »
Annual Chicago careers trip lets students explore the Windy City ...
more »
Student News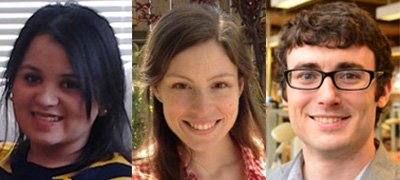 Three MPP students will intern in the City of Detroit Mayor's Office.
more »
Sixteen Ford School masters students share their experiences.

more »
Students win grant to identify sustainable slum redevelopment challenges in India ...
more »
Two Ford School students win 2015 Udall Foundation Native American Congressional Internships ...
more »