Dean Susan M. Collins on The Centennial Reunion, major recognition for Bob Axelrod, and our 2014 Staebler Award Winner.

more »
Alumni News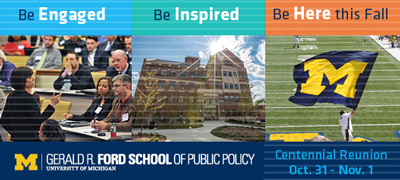 The big weekend draws near! See who's attending and register today.
more »
Anderson Economic Group founder will be recognized at The Centennial Reunion on October 31.

more »
Nominees can vie for 6 open seats. Deadline: November 9 at midnight EST.
more »
4th Annual Worldwide Spirt Day a hit in eleven cities...
more »
Faculty News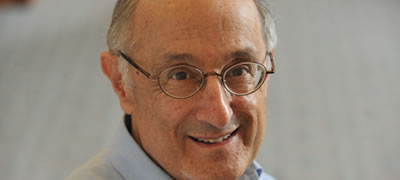 First political scientist to win Medal of Science in over 25 years. White House ceremony to come.
more »
September 15

Upshot

column: what can we learn from health care ratings?

more »
Global Michigan
interviews the former U.S. Ambassador to Brazil.
more »
Wolfers makes IMF's list of "25 Brightest Young Economists"...
more »
Jacob receives Spencer Foundation grant to study educational reform ...
more »
Parthasarathy elected to 4S Governing Council...
more »
School News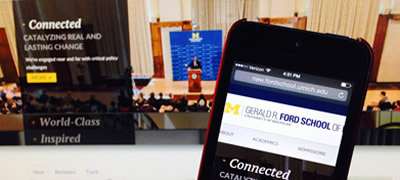 Ford School launches all-new web presence—responsive and fully database driven.
more »
Proposals sought from alumni to develop Summer 2015 internship partnerships in science, technology, or health policy.
more »
Ford School offers incoming students first-ever American Government Module...
more »
Student News
Three MPP students will intern in the City of Detroit Mayor's Office.

more »
New fund supports conferences and travel for students.
more »
Internship Field Report: Michele Majors @ UNHCR, Geneva ...
more »
Internship field report: DuoDuo Zhang @ Washington, DC...
more »