Dean Susan M. Collins on Worldwide Ford School Spirit Day, the Honorable Paul O'Neill and Commencement '13, and the first Raoul Wallenberg Fellow—a BA alum.

more »
Alumni News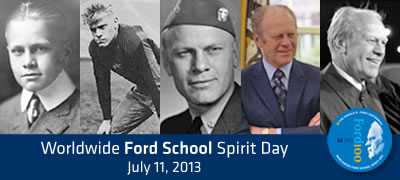 RSVP now for a July 11 event near you.
more »
New alum Zachary Petroini (BA '13) receives first-ever $25,000 Raoul Wallenberg Fellowship.

more »
After 40 years with EPA, Daniel Steinborn (MPP '71) reflects on water challenges past and present ...
more »
Grant Erwin (MPP '09) talks Chicago teacher's strike, teacher evaluations, and assuming success in the classroom ...
more »
Faculty News
Recognized for his contributions to the discipline, Axelrod was named the winner of one of the most prestigious prizes in political science.
more »
The White House has named Stevenson to the CEA, President Obama's primary source of analysis and advice on economic policy.
more »
Susan Waltz reflects on United Nations General Assembly international Arms Trade Treaty ...
more »
Education Week cites Megan Tompkins-Stange's research on charter school funding ...
more »
Around the school
Incoming MPP/MBA students Brian Garcia and Brian McMillan to receive prestigious David Bohnett Foundation Leadership and Public Service Fellowship.
more »
Led by Peter Bahr, Susan M. Dynarski, and Brian A. Jacob, research will help schools better tailor their programs.
more »
In April, Patrick Leonard, Tyler Sawher, Dan Trubman, presented proposals to local officials, community leaders, and residents to repurpose facilities.
more »
Ford School Charity Auction receives U-M Forever Go Blue Award for excellence in philanthropy ...
more »
2013 Ford School Staff Retreat scavenger hunt inspired by President Ford centennial celebration ...
more »