October 14, 2009
Greetings from the Dean


Dean Susan M. Collins provides an update on the latest Ford School news, including a welcome to our incoming students and reflections on a busy and exciting fall semester. [More]

Consider running for our Alumni Board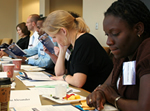 Looking for a new way to get involved and give back? Learn more about the elections from Board Vice-Chair Elisabeth Wright Burak (MPP '01). [More]
Alumni gather for 95th anniversary & reunion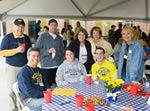 In September, alumni, students, faculty, and staff gathered to celebrate the school's 95th birthday. See pictures from the event in our online slideshow. [More]
The Ford School presented Douglas A. Brook with the Staebler Alumni Service Award at the reunion weekend. [More]
First edition of State & Hill recaps history of the school, looks ahead... [More]
Fall lectures draw crowds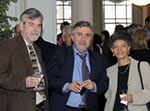 Many of the world's leading trade economists – including Paul Krugman – gathered for a conference in honor of Associate Dean Alan Deardorff. [More]
Live webcast on Thursday, 10/15 – the latest on prospects for health care reform legislation... [More]
Keeping in touch: alumni news
Upcoming alumni reception: Thursday, November 5, 2009 in Washington, DC. [More]
Alumni Weekend: [Slideshow]
Stay connected: join other alumni on Facebook, LinkedIn, and InCircle. [More]
Multimedia
2009 Citigroup lectures from:


Professor Paul Krugman. [Watch]

Senator Chuck Hagel. [Watch]

n. 1. Distribution of a local broadcast by network or satellite to a larger audience. 2. A data format used to provide users with frequently updated content. 3. Email communications from the Ford School used to link our alumni and friends around the world to news and information about our community.
We welcome your input on
The Ford School Feed:
the-feed@umich.edu